Live Big In Lanark Landing
---
You have big dreams, and we're here to make sure they come true in a home that fits your family and your lifestyle. You want a community that has everything you need, including great access to downtown Calgary, the best outdoor amenities and access to regional multi-use trails.
Lanark Landing offers you more for your hard-earned money. More space, more amenities – the perfect place for your family to land. Whether you're gaining square footage or downsizing, you'll be leveling up and living your biggest lifestyle, whatever that looks like for you.
GET DIRECTIONS
Right next door to King's Heights and Ravenswood. As more complete communities, there are many amenities in place, including the sportsfield/hockey rink right at the Lanark Landing entry.
Kilometres of pathways connect the community to ponds, parks, playgrounds, picnic areas, & shopping destinations. Residents enjoy baseball diamonds & multiple soccer pitches. The pathways connect to the regional path network.
Heloise Lorimer School (K-5) Ecole Francophone D'Airdrie (K-12)
Find all your daily needs within walking distance at Kingsview Market, to easy access to Cross Iron Mills & Costco.
Coming soon! Our community plan has a park or greenspace on pretty much every block.
Future road infrastructure servicing Lanark Landing: – 40th Ave Interchange – 40th Ave SE extension to RGR 292 – Completion of SE Airdrie "loop road"
Lanark Landing is built for families of all ages and stages. Community amenities include multiple options for meeting neighbours, exploring nature and getting your daily exercise in.
Find out more about the beautiful parks and green space in our community by hovering over a dot on the map below.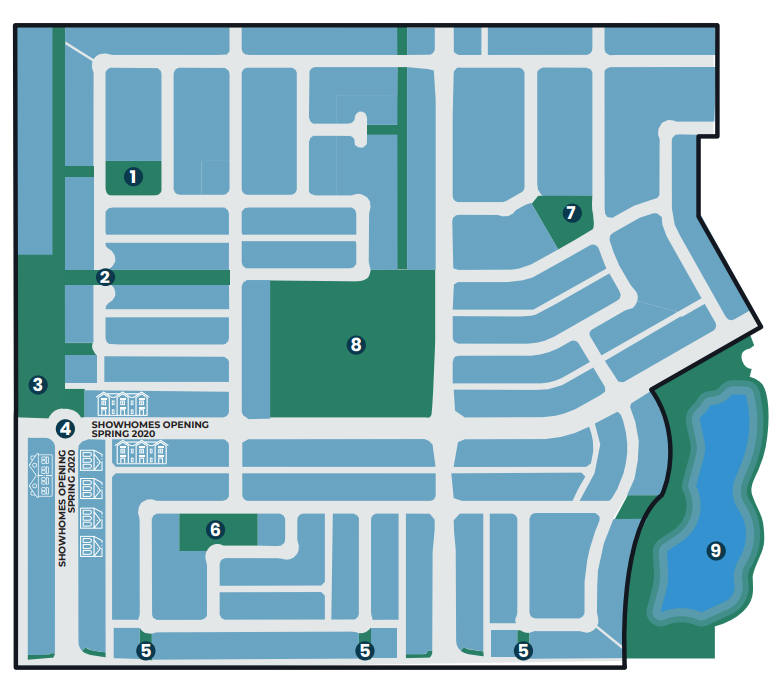 Live somewhere your kids will love.
You see a cul de sac. They see a street hockey arena.
---
From soccer fields and a boarded rink to parks, paths, and playgrounds – there are so many things for kids and families of all ages to explore in Lanark Landing.
VIEW SHOWHOMES